Gamera (short film)


Japanese poster for GAMERA
Directed by
Katsuhito Ishii
Produced by

Shinichiro Inoue

Music by

Kenji Kawai

Distributed by
Kadokawa Pictures
Released
2015
Running time
4 minutes
| | | |
| --- | --- | --- |
| " | The return. (帰還) | "  |
| | — Tagline | |
GAMERA (GAMERA,   Gamera?) is a 2015 Short Japanese daikaiju eiga (giant-monster movie) featuring a popular reboot character Gamera created by Daiei Motion Picture Company. first screened at New York Comic Con on October 8. It was intended as a celebration of the 50th anniversary of Gamera's debut film and as a proof of concept for a feature-length reboot of the franchise. March 2014, Anime News Network reported that a new Gamera production was planned, with no release date specified. On October 8, 2015, Kadokawa Daiei Studio's senior managing director Tsuyoshi Kikuchi and producer Shinichiro Inoue screened a proof-of-concept trailer at the New York Comic Con, revealing plans to commemorate the Gamera franchise's 50th anniversary by producing a new film reboot of the series, set to be directed by Katsuhito Ishii. The proof-of-concept trailer featured a newly designed Gamera, a swarm of newly designed Gyaos and a new, as yet unnamed monster, all of which were created and rendered through the use of computer-generated imagery.
Plot
[
]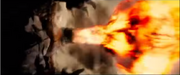 The film starts with a flashback to Tokyo ten years in the past. Manafu, a young boy, and his father are among the citizens fleeing from the swarms of Gyaos attacking the city. Manafu's father pushes his son out of the way just before he is eaten by a Gyaos pursuing them. As the Gyaos prepares to consume the boy, a second Gyaos smashes through a nearby building and attacks it. This Gyaos turns its attention to the boy as well, only to be crushed underfoot by Gamera. Gamera then turns to an approaching swarm of Gyaos and takes in a huge breath of air before unleashing a gigantic blast of fire that annihilates them all.
Ten years later, Manafu watches as an eight-limbed creature devastates a city. Suddenly, Gamera appears once again to challenge the monster.
Cast
[
]
Production
[
]
Kadokawa's desire to produce a new Gamera film was revealed through the retailer Amiami, which listed that the May 16, 2014, issue of Kadokawa's Tokusatsu Newtype magazine would be having a lead feature on the project.
On October 8, 2015, Kadokawa Senior Managing Director Tsuyoshi Kikuchi and producer Shinichiro Inoue held a 50th-anniversary presentation for Gamera at New York Comic-Con. Handbills and t-shirts were distributed at the event, which culminated in a screening of GAMERA. All of the monsters in the short were portrayed with CGI, a first for the series. Katsuhito Ishii was announced as the director of both the short and a potential upcoming film. A release date was not disclosed, nor were any plans to release it outside of Japan, though Kadokawa's representatives hinted that they wanted the film to have a global audience. An official website dedicated to Gamera's 50th anniversary launched later that day. It announced that the footage shown at NYCC would be screened at the 2015 Tokyo International Film Festival along with restored versions of Gamera vs. Gyaos, Gamera: Guardian of the Universe, Gamera 2: Attack of the Legion, and Gamera 3: Revenge of Iris later in October. No news about a feature-length expansion of GAMERA has emerged since the launch of the website.
Though Kadokawa only released a 30-second version of the short through its YouTube channel, the presentation was broadcast live via Twitch and archived afterwards.
Release
[
]
GAMERA was first screened by Kadokawa Pictures at New York Comic Con on October 8, 2015.
References
[
]
 

Monsters

Characters

Staff

To be added

Cast

Rui Takahashi

•

Kankuro Kudo

Music